Scott Pilgrim-Palooza!
Wednesday, June 2, 2010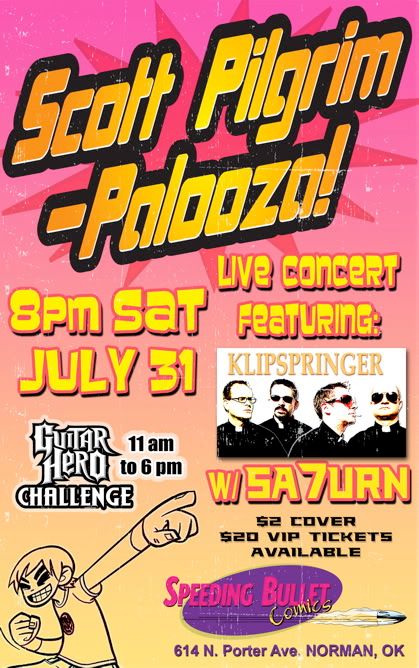 Scott Pilgrim's Finest Hour, the final graphic novel in the series, comes out this summer — and to celebrate, we're prepared to rock our faces off.
Join us for Scott Pilgrim-Palooza on July 31! We'll be holding a Guitar Hero contest during the day, and a concert featuring majestic indie music at night!
This is a celebration of the fusion between rock and comics, and of the nerd culture in general. So show up, have fun, and let your geek flag fly.
Dates to remember:
JULY 20: Scott Pilgrim's Finest Hour released
JULY 31: Scott Pilgrim-Palooza!
AUG 13: Scott Pilgrim vs The World hits theaters

Klipspringer to debut Scott Pilgrim song

One of Oklahoma's finest indie-rock bands, Klipspringer, will perform live at Speeding Bullet as the main event at Scott Pilgrim-Palooza!
The band — who claim Alex Ross and the Vision of the Avengers among their influences — will also be debuting a Scott Pilgrim song they wrote just for our concert! Listen to Klipspringer
Moore-based band Sa7urn will open the show, which begins at 8 pm July 31. Tickets are a measly $2, or you can show your ultimate Scott Pilgrim love with a VIP Ticket. VIP Tickets are $20 and include a free pre-selected Oni Press graphic novel, pizza with the band, early entry and a signed event poster. Listen to Sa7urn
New Scott Pilgrim movie trailer released
This movie looks fantastic! The film stars lovable Michael Cera as Scott Pilgrim and is directed by Shaun of the Dead's Edgar Wright. Matt has linked to the trailer from his award-winning Nerdage blog. Watch trailer