The Posthuman Project coming to AMC Quail Springs!
Thursday, January 29, 2015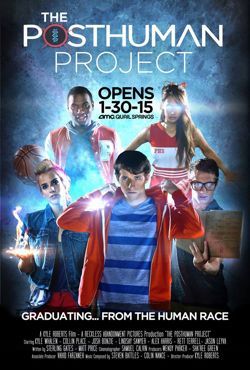 It's finally here! The Posthuman Project, the teenage superhero film made here in Oklahoma and written by Speeding Bullet's own Matt Price and Sterling Gates, opens this weekend!
Screenings begin January 30 and continue through February 5 at AMC Quail Springs Mall, 2501 W Memorial Road in Oklahoma City! And you can order your tickets online here!
In the film, Denny Burke is finally about to graduate high school. Senior Year has been one bad thing after another: a broken leg, a broken heart and - worst of all - a broken home.
With four of his closest friends, Denny goes on one last rock-climbing trip to prove he's ready to start his adult life… On their trip the five teens receive a genetic boost beyond anything they'd ever imagined.
Denny is soon faced with the first big decision of his adult life: does he give up these powers and stay a normal teenager, or does he keep them…and graduate from the human race?
The film has won three best feature awards in its festival run as it screened from Los Angeles to New York City and Europe. And now you can see it in Oklahoma City!
Don't forget to ORDER THOSE TICKETS!