Top 10 Graphic Novels of 2011
Wednesday, January 11, 2012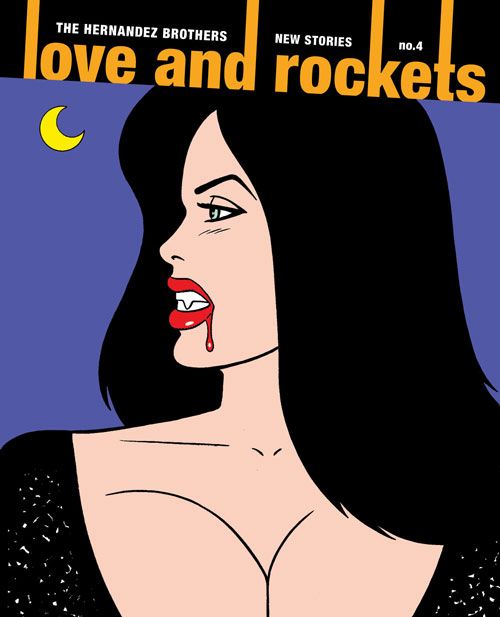 1. "Love and Rockets: New Stories Vol. 4″
Following up on the storylines started in Vol. 3, the Brothers Hernandez, specifically Jamie, deliver one of the high points of their career. By Jamie & Gilbert Hernandez.
2. "Habibi"
Long-awaited graphic novel "Habibi" is a timeless, "Arabian Nights"-styled tale that follows the lives of two orphaned slaves. Exotic and lush, yet heartbreaking at times, it is an exploration of the Islamic culture by one of comics' most deft craftsmen. By Craig Thompson.
3. "Hark! A Vagrant"
Kate Beaton takes a humorous trip through history and literature with witty, absurd humor featuring characters from Napoleon to Nancy Drew in this collection of comic strips. By Kate Beaton.
4. "Return to Perdition"
Vietnam veteran Michael Satariano Jr. attempts to get revenge for the mob hits on his parents. Working with a black ops program, Michael finds himself caught up in intrigue on all sides, and becomes even more conflicted once he enters a romance with a mobster's niece. By Max Allan Collins & Terry Beatty.
5. "Big Questions"
This existentialist graphic novel follows a flock of birds dealing with a newcomer. Massive, bizarre and thought-provoking. By Anders Nilsen.
6. "Daytripper"
Originally released as 10 individual issues, each issue follows a day in the life of Bras de Olivias Dominguez, with each ending the same — he dies. The following story picks up at a different point in Bras' life, unconnected to his previous death. By Fabio Moon & Gabriel Ba.
7. "Feynman"
This graphic novel recounts the life and career of noted physicist Richard P. Feynman in a funny and educational book. By Jim Ottaviani & Leland Myrick.
8. "Green River Killer: A True Detective Story"
Jeff Jensen writes a true-crime story of the killer who plagued Oregon. Jensen's father was the lead detective on the case, and the book also looks at the impact the case had on the family. Art by Jonathan Case.
9. "The Great Northern Brotherhood of Canadian Cartoonists"
It's an alternate history of Canadian cartooning, centered on a fictional cartoon society in the city of Dominion, which served as a gathering place for artists. By Seth.
10. "Troop 142″
A webcomic story of a summer at a boys' scout camp, it explores the cruelty of childhood, and the veneer of civility we paste on top of such conflicts as adults. By Mike Dawson.
For a more in-depth look at these awesome graphic novels of 2011, check out the full article on Matt's Nerdage blog. Or come to Speeding Bullet and pick these gems up!